You don't have to sleep in a luxury hotel
to wake up to the most beautiful view on Capri...
A hotel on the island of Capri, in a central location and with enchanting views of the sea. And which doesn't cost the earth. Exists.
One of the first hotels to open on the Island of Capri, it is hardly surprising if Hotel Bellavista boasts one of the best locations too: perched on the rocky slopes of Anacapri, occupying what was, until the 17th century, a watch tower built to guard against Saracen attack.
Wake up in the morning and walk out on to the terrace of your room, where you'll be greeted by the sea surrounding Capri and, in the background, the unmistakable forms of Mount Vesuvius and the islands of Ischia and Procida.
Linger at leisure over your sea-view breakfast, savoring your cappuccino and cake and get ready to enjoy the rest of what already promises to be a perfect day.

Good reasons to choose Hotel Bellavista
Enjoy the most beautiful view on Capri, without having to leave your room!
The strategic location, within steps of the center of Anacapri and buses to Capri.
Relax on your private terrace.
An aperitif on the terrace, as you watch the sun set over the sea.
A swim in the sea or in one of the pools offering special rates to Bellavista guests.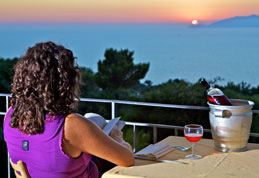 A truly breathtaking view and an excellent location, in a peaceful area close to the center of Anacapri.

Location
Hotel Bellavista is located at the beginning of the historic center of Anacapri, the picturesque little town on the slopes of Monte Solaro.
Two of the Island of Capri's most important tourist attractions lie within steps of the hotel: Villa San Michele and the chairlift to the summit of Monte Solaro.
All the other sights are just a short bus ride away. You can catch buses to Capri, the port of Marina Grande, the Grotta Azzurra and the lighthouse (Faro), from the stop just outside the hotel.
Print the map and take it with you.

Download the pdf file and print it back to front
Within walking distance of Hotel Bellavista:
Villa San Michele
Chairlift to Monte Solaro
Historic center of Anacapri
The Migliera walk